http://www.youtube.com/watch?v=bjOePNFRFRU
I'm not exactly sure what episode this went in, since I haven't seen the whole thing, but I'd be remiss if I didn't post this cartoon anyway. This is quite possibly the best Animaniacs cartoon they ever did, or at least it's one of my all time favorites. It's pure genius! I sure hope they put it on DVD soon because I want a high quality version of my own. There's just so much in it that I have to watch it several times to see it all. If you've seen the original Macarena video, this one mimics it pretty well. I hear Warner Brothers even bought the rights to the song just so they could use it in this cartoon, instead of having to do a parody and worry about legal junk.
The thing I like most about this one is that all the characters get to interact instead of being stuck in their usual roles. It's fun to see them react to each other, and it's great to see them all dancing and having fun together. Well, except for the mime. He's not dancing. He's just doing mime things, so he needs to die.
I especially love the way Slappy is such a wet blanket through the whole thing. She's not going to dance, she's just there to get a paycheck. I love Slappy. She's pure awesome!
I also really like how Hello Nurse and Minerva get places right along side Dot, so they sort of get elevated to her level for a while. I imagine they especially loved singing the line about having people arrested, since they'd be two of the characters that would get the most trouble from rabid fan boys.
I like the way it starts out with Ralph at the beginning. It's so, so wrong, yet so perfect at the same time. I like the way Skippy reacts to the Hippos. Heck, I like just about everything about it. Well, except perhaps for the rapid scene changes. I know that's part of how the video should be, but it would be nice to see individual characters doing the complete dance instead of just snippets.
_________________
"We are fast approaching the stage of the ultimate inversion: the stage where the government is free to do anything it pleases, while the citizens may act only by permission; which is the stage of the darkest periods of human history, the stage of rule by brute force." - Ayn Rand.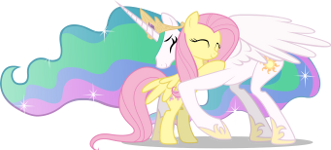 http://www.framwinkle.com