Okay, here's a list of rules and characters that are involved in the role play. Hopefully this will make it a bit more organized.
Rules:
1. Each player will be allowed to control 1 Tiny Toon character. More characters may be permitted later on, but for the beginning we'll start with one each.
2. Each player may also introduce and control one other character from a different cartoon, (eg. Spongebob, Gadget Hackwrench, etc.) This character will be enrolling in Acme Looniveristy as a new student. They do not have to be of student age.
3. You must create a simple bio for your character so that other people can know a little bit of basic information about them that would be obvious for anyone seeing them. For instance, if I were to meet your character on the street, I'd be able to see their species, clothing, height, and perhaps some simple personality traits, all without even speaking to them. Posting this information initially will help us all interact with each a little better at the start and act as a reference for what our characters are like. If available, a photo of your character is encouraged.
4. Original characters are not permitted.
5. Any Tiny Toon not claimed by a player may be played by any other players as needed.
6. You can't write for a character claimed by another player.
7. Please keep all discussion of the role play here in this thread so that the role play thread can be left uncluttered and easier to follow.
Here is a simple bio template you can use to create your own character's bio.
Name of the player - Your name here on the forum so we know who's playing who.
Tiny Toon Played - Which Tiny Toon do you claim?
Other character - Are you playing a character from another cartoon in addition to a Tiny Toon? If so, you would list it here.
Picture - If you have a picture of the character, post it first.
Name - The name of your character, and any nicknames.
Show - What show are they from?
Species - What is your character? Skunk? Rabbit? Human?
Sex - Are they Male or Female?
Skin/Fur/Feathers/Etc - Does your character have fur, feathers, bare skin, scales, or what?
Color - What color is their fur/skin/feathers?
Clothing - Do they wear clothes? If so, what? Could include everything from shirts, shoes, hats and even toon gloves if worn.
Hair - Do they have hair? If so, how much and what color?
Eyes - What color are their eyes?
Height - How tall are they? If you don't have a specific height, that's fine. How do they relate to the average Tiny Toon character?
Weight - Are they normal weight, overweight, or underweight?
Glasses - Do they wear glasses? If they wear contacts, you don't have to mention it unless it becomes part of the plot because that's not something someone would know just by looking at them.
Visible Distinguishing Marks - Do they have anything noticable about them that could easily be seen? A cut ear? Bobbed tail? Tatoo?
Posessions - Do they normally carry anything with them? If so, what?
Basic Personality - How do they usually act like? What would someone notice about them after spending a minute with them in the same room, even if they don't interact? Are they shy? Hyper? Angry?
Now for the characters.
-----------
Player - Framwinkle
Tiny Toon Played - Babs Bunny
Other Character: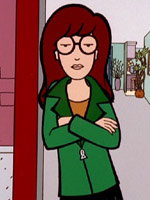 Name - Daria Morgendorffer
Show - "Daria" from MTV.
Species - Human.
Sex - Female.
Skin/Fur/Feathers/Etc - Skin.
Color - White
Clothing - Daria wears a green jacket, usually partially zipped up, over an old orange t-shirt on top, and a pleated black skirt on bottom. She also wears tall black boots on her feet.
Hair - Daria's hair is auburn (red-brown) and pretty ordinary, meaning she doesn't style it in any way. It comes down to about the middle of her back.
Eyes - Daria's eyes are dark brown so that they usually look black.
Height - 5'2"
Weight - Average, not overweight or underweight.
Glasses - Yes. Daria wears big glasses all the time, and can not see much without them.
Visible Distinguishing Marks - No.
Posessions - Daria caries a small black bookbag.
Basic Personality - Daria generally keeps to herself, but often can not resist making sarcastic comments about various things that she sees going on around her, especially when she is pointing out some kind of hypocrisy. She generally comes off as boring and depressed, but that isn't really true. She just doesn't get excited easily.
---------------