As the sound of the train whistle grew closer, Furrball stopped scrounging through garbage, Shirley stopped meditating, Fifi stopped preening, Dizzy stopped spinning, Elmyra stopped hugging some poor creature, Gogo stopped, um, doing whatever it was he was doing, Calamity stopped inventing, Foulmouth stopped swearing,
"It's the dadgum train!"
(Well, almost.) and Concord stopped flying. ::thunk!:: Indeed, all over Acme Falls the townspeople stopped what they were doing and looked up as the sound of the train drew their attention.
Babs sat up on the bench at the train station, keeping the blanket wrapped around her while hugging Buster close, a look of excitement in both their eyes.
Soon the whole town was racing to the station to meet the train. After all, entertainment was scarce since the cable company had shut off the whole town for nonpayment, so any distraction was welcome.
With the train in sight, Babs and Buster both stood up in anticipation of its arrival and Buster broke out into song. "Oh the train bearing Plucky is rolling down the tracks!" Buster sang.
"I'm sure Hamton's been with him all along." Babs sang, not wanting to leave Hamton out.
"Plucky went into the world and how he's coming back" the townspeople sang.
"We've missed them BOTH the whole time they've been gone." Babs corrected.
"Like, they went to seek their fortunes. I feel like I've been burned." Shirley sang, somewhat peeved that they didn't just ask her for their fortunes.
"They're bringing souveniers, and maybe juicy worms!" sang Sweetie.
"The train with our two friends is getting closer." sang Babs.
"Bringing Plucky..." the town sang.
"And Hamton..." Babs added.
"Back home!" Everyone sang.
_________________
"We are fast approaching the stage of the ultimate inversion: the stage where the government is free to do anything it pleases, while the citizens may act only by permission; which is the stage of the darkest periods of human history, the stage of rule by brute force." - Ayn Rand.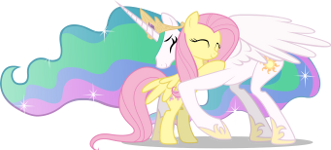 http://www.framwinkle.com