Even though it's a day late, I don't think anyone would kill me for uploading some Thanksgiving/Fall time related TTA fanart.....at least I hope they won't.
It seems that not even a trip to the ol' pumpkin patch is a safe venture in Acme Acres, especially when you're a "cute bunny wunny hippity hop". Yet another gorgeous gem from the long since defunct TTA calender site. It's particularly special since Elmyra generally doesn't show up in TTA fanart anymore. This and other reasons is why I feel that the over abundance of Elmyra hate is a recent trend in the TTA fandom.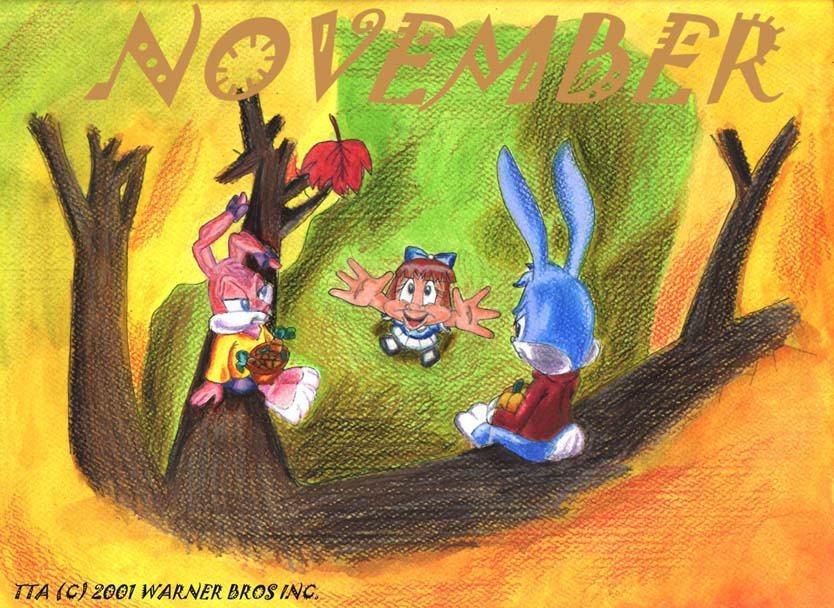 & here we have the only surviving piece of fanart for Mike Cote's classic fanfic "A Really Very Special Tiny Toon Thanksgiving...I Guess"(there use to be more) The fanfic tells how many members of the TTA cast supposedly spent the Thanksgiving of 1994. There are multiple stories going on at once in this fic but Thorne chose to focus on Fifi's, in which Hamton invites her to his house for the holiday. It also deals with Fifi's great fear that Hamton's family won't like/accept her. Speaking of Hamton's family, this might be my favorite portrayal of them in fanfiction form. More often than not Hambone's family are used as a cheap plot device as well as being horrifically out of character.(if you've read enough TTA fanfics, chances are that you know exactly what I'm talking about) Mike captured their kind, laid-back yet quirky nature pefectly. There needs to be more of Winnie, Wade, Stinky, Pappy and Bubbie in fanart and fanfiction if you ask me.
Just a simple pic of the TTA gang enjoying autumn out in the country side.(the best place to be in the autumn if you ask me
) There's no way of knowing where Dizzy got that pickup truck or who in their right mind gave him a drivers license but he seems to be doing alright.(he got them there alive and in one piece
) My other favorite part of this picture is definitely Plucky. I don't know what the story is behind that hat but he looks darn cool wearing it.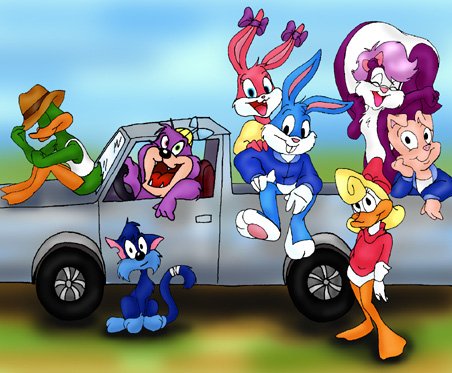 I'll never understand why Buster and Babs are occasionally so mean spirited towards their friends. It's even sillier when you take into account that sitting at the table, they'll likely get blown up as well, but then again that's the point of Acme Acres isn't it? To just be plain and unapologetically silly?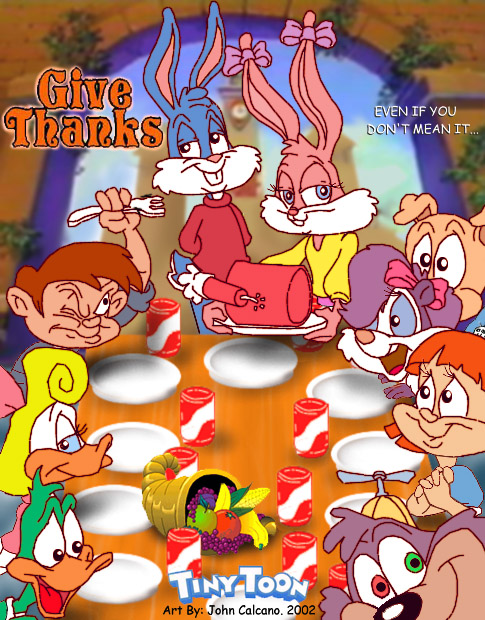 It feels like we ourselves are living in a cartoon world at times, but what ever may come, Happy Thanksgiving to you all!